Program_AASSA GA_New Delhi.pdf

Report_AASSA GA_New Delhi.pdf

Minutes of the 2014 GA of AASSA_20141121.pdf
The 2nd AASSA General Assembly

In conjunction with
KAST-ASM-INSA-IAP International Symposium on
"SHER Communication in Asia with a Special Focus on Science Festivals"
And
the South Asian Science Academies' Seminar on
"Achieving Sustainable Agriculture through a Biotechnological Revolution"

October 14 - 17, 2014
Indian National Science Academy (INSA), New Delhi, India
Hosted by INSA and KAST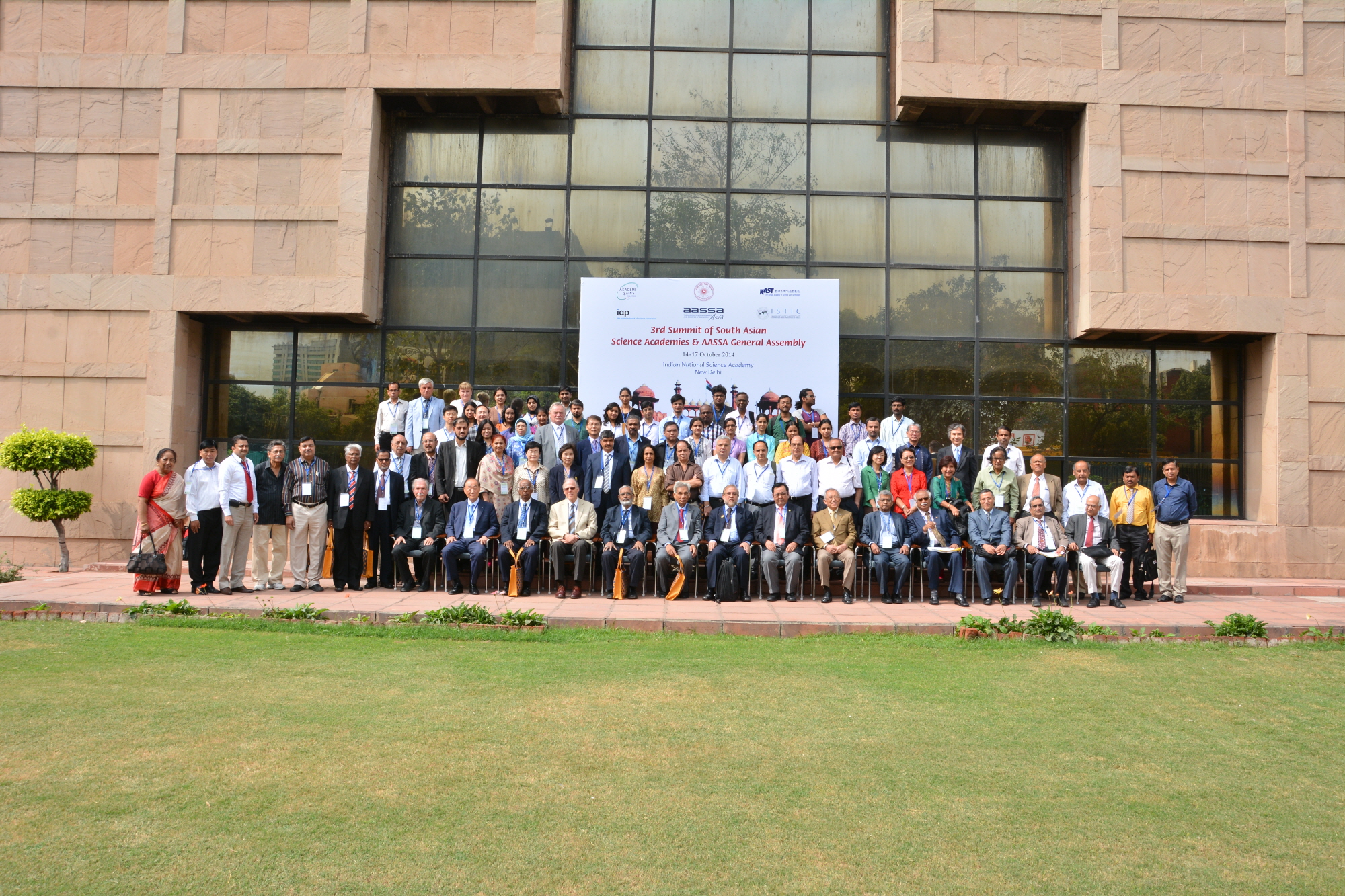 The Indian National Science Academy has undertaken focused efforts in the recent past to strengthen regional cooperation in science and technology including issues of common concern. Summit of South Asian Science Academies was organized at the Academy premises consecutively for past two years, 2012 and 2013. The 3rd Summit of South Asian Science Academies along with the General Assembly of Association of Academies and Societies of Sciences in Asia (AASSA) was organized during 14-17 October 2014 at the Academy. AASSA, a group representing 34 academies from 30 countries, was established in 2012 to promote solidarity and cooperation among the scientific and technological academies in Asia and Australasia. It aims to stimulate regional co-operation and self-reliance by sharing each other's experience.

During the first two Summits, the member countries deliberated on Energy Options, Health Care and Infectious Diseases, Education in Science, Inclusive Innovation, Women in Science, Urbanization and Climate Change (2012) and ICT Tools in Enhancing Quality of Higher Education, Sustainable Development-Post 2015 Scenario, Health and Well-being: Advances in Biotechnology, Agricultural Productivity, Food and Nutrition and Role of S&T and Innovation (2013).

The third Summit was a special event since it was held along with the AASSA General Assembly. A total of 70 overseas delegates spread across entire Asian region and around 50 Indian scientists (including a number of young researchers) participated in these events.

On day one, a seminar on 'Achieving Sustainable Agriculture through a Biotechnological Revolution' in collaboration with the UNESCO-Regional Centre for Biotechnology was organized. On second day, an International Symposium on 'SHER Communication in Asia with a Special Focus on Science Festivals' was jointly organized by IAP, INSA, the Korean Academy of Science and Technology (KAST) and the Academy of Sciences of Malaysia (ASM) to discuss and propose better ways to improve Science Literacy.

A meeting of the Special Committee on Women in Science and Engineering (WISE) was also held along with the AASSA General Assembly.

A notable feature of this meeting was the participation of 25 students from different parts of India. The students actively participated in all the sessions and contributed significantly to the discussions both during the sessions and outside. The opportunity for students to participate in the summit meetings is itself a way to reach out to society at large.

Representatives of the Science Academies and Organizations from the following countries participated in the event:

Afghanistan, Australia, Bangladesh, Bhutan, China, IAP, India, Indonesia, Iran, Japan, Korea, Malaysia, Mauritius, Mongolia, Nepal, Pakistan, Philippines, Russia, Singapore, Sri Lanka, Thailand, Turkey



Seminar on 'Achieving Sustainable Agriculture through a Biotechnological Revolution'

Representatives from India, Pakistan, Sri Lanka, Nepal, Bhutan, Bangladesh, Islamic Republic of Iran, Afghanistan, Mauritius and Mongolia provided an overview of the status of agricultural biotechnology in their respective countries. This was very useful as many of us were not adequately informed about the recent developments in our region. It was clear that there is an active programme and much interest in the possible use of biotechnology for achieving sustainable agriculture in all the countries of the region. Considerable research is already under way but much more intensive work needs to be done to meet the vast challenges of sustainable agriculture in the diverse environments and diverse human needs of the region.

Not surprisingly, there was much discussion on the impediments for implementation of biotechnological methods including adverse public perception. There was wide-spread consensus that addressing public concerns and making biotechnology acceptable should be part of the effort of achieving sustainable agriculture through biotechnology. Concerted efforts need to be made to accurately assess the benefits and risks of each biotechnological intervention and communicate these assessments to farmers and other members of the society. This led automatically to a more general discussion about the interaction between science and society, science communication and education and the need to integrate social sciences and humanities in these efforts. Based on the perceived benefits and risks, appropriate regulatory mechanisms have to be put in place in order to achieve consensus in the use of biotechnology for sustainable agriculture. Attention was also drawn to many biotechnological methods not involving genetically modified crops, that may be equally important and much less controversial.

A committee with Professor Anwar Nasim as Convener and Professor Vijaya Kumar, Dr Rekha Chhetri and Dr Sangita Shrestha as members, was set up to make recommendations about possible follow up actions resulting from this seminar. The committee was requested to submit its report within two months.


Symposium on 'SHER Communication in Asia with a Special Focus on Science Festivals'
Delegates from Malaysia, Korea, Singapore, Philippines, Thailand, Indonesia, Nepal, Bangladesh, India and China provided fascinating stories about efforts in their countries to take science to the wider public, young and old. The use of science fairs and festivals has been especially effective in arousing interest not only in the products of modern science but also in the scientific method itself. These efforts are expected to inspire more young people to study science and opt for a career in science. They are also expected to make science more friendly and acceptable to society so that the society at large can actually participate in the production and application of scientific knowledge for solving many of our problems. Innovative use of modern information technology combined with creative use of traditional methods of communication was the highlight of many presentations. A special feature of this activity was a built-in formal mechanism to evaluate the success of these efforts. A separate session was devoted to "Evaluating Science Festivals" which showed how to obtain public feedback and thus make our efforts more useful.


Meeting of the Expert Committee on Women in Science and Engineering (WISE)
A Special Committee on WISE having 12 members from different member countries of AASSA was established in the Second Summit of the South Asian Science Academies held on September 24-27, 2013. During the AASSA/TUBA workshop held in Izmir, Turkey on May, 2014, this committee decided to prepare a country-wise report along with a survey of the status of women in science and engineering. This report was presented and discussed in this summit. The members present discussed the state of progress in their preparation of the project report on "Sustainable Development in Asia (SDA)" and the state of planning for the "Gender Summit Meeting" to be held in Seoul, in August 2015.