KAST-ASM-IAP International Workshop on
"Science Literacy: Science Communication and Science Outreach"

June 12 – 13, 2014
Seoul, Korea
Hosted by the Korean Academy of Science and Technology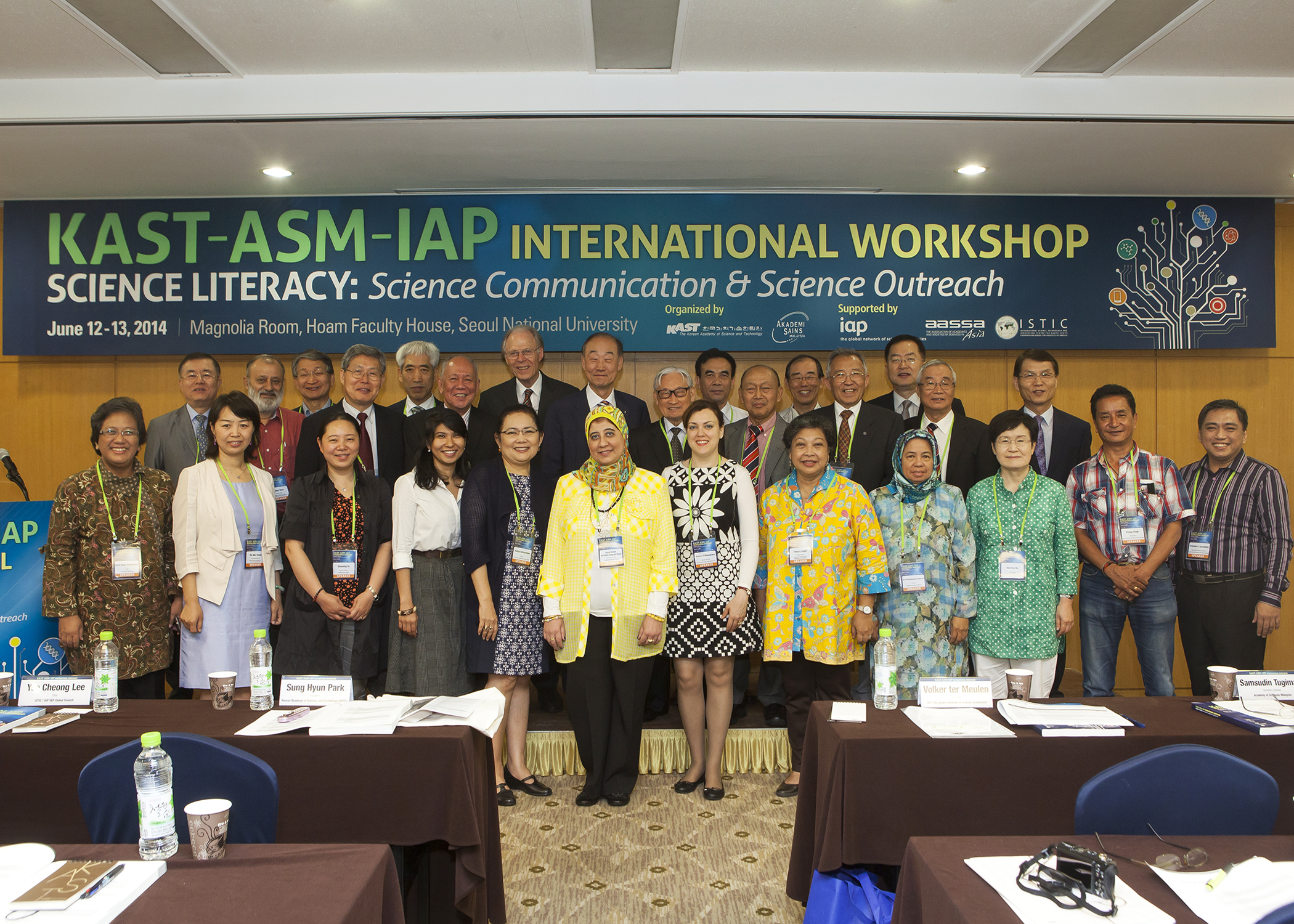 With the support of IAP (the global network of science academies) and AASSA (Association of Academies and Societies of Sciences in Asia), KAST (Korean Academy of Science and Technology) and ASM (Academy of Science Malaysia) co-organized a recent workshop for science communicators. The workshop took place in Seoul, South Korea on June 12 and 13, 2014. The theme of the workshop was "Science Literacy: Science Communication and Science Outreach". Workshop participants found it to be very helpful and hoped that there would be future workshops.

Invitations to apply to this workshop were sent to KAST and AASSA members. They tried to invite participants from all over the world, but they also considered the expense of providing airfare for the maximum number of participants. Since this conference was in Korea, they focused mainly on inviting Asians, with a few from outside Asia. A workshop in India would take place in October 2014. It may be more practical to invite more people from Africa, Europe, and/or the Americas to that conference.

They tried to invite people who are influential in their respective countries in order to maximize the impact of this workshop. Those who already have influence in their countries may be in the best position to apply what they learned at the workshop.

In selecting the participants from among the applicants, they considered the quality of the abstract that was submitted and tried to maximize the number of countries that were represented. They were able to fully support twelve applicants from outside Korea. Additional three were able to attend, but paid for their own airplane tickets to Korea.

Participants came from the following countries: China, Egypt, India, Indonesia, Korea, Malaysia, Nepal, the Netherlands, the Philippines, Thailand, and Vietnam.

Participants also represented a variety of professions, reflecting the many fields that science communicators are based on. Participants included professors, CEOs, researchers at institutes or academies, and a director at a science museum.

Some participants had attended one of the workshops they held in the past, but others had not .

The workshop consisted of lectures and discussion. Presentations were divided into four subthemes:

[Subtheme 1] How to achieve effective education and communication of science for enhancing scientific literacy (e.g., formal and informal educational activities, public communication of science)


[Subtheme 2] How to achieve effective communication of SHER (Science, Health, Environment, Risk) for removing the gaps between the scientists and the public (e.g., formal and informal educational activities, public communication of SHER information)


[Subtheme 3] How to evaluate effective education and communication of SHER (e.g., measurement of scientific literacy or public understanding of science, health, environment or risk information)


[Subtheme 4] How to establish the IAP-AASSA network for effective education and communication of SHER and sustainable development.

Some of the presentations touched on multiple subthemes, but were grouped with the subtheme that fit them best.

After a group discussion, a concluding statement was adopted on the final day of the workshop. The concluding statement summarizes what they have done so far, both in this workshop and in two previous ones, and explains how the IAP and AASSA goals regarding science literacy have helped support this work. The statement then proposed that AASSA create a Special Committee on SHER (Science, Health, Environment, and Risk) Communication to enhance their efforts in Asia. Five primary goals were established. As a practical way to address these goals, they have agreed to publish a printed material or book on SHER communication in Asia.