The 9th AASSA Regional Workshop on
"Sustainable Management of Water Resources and Conservation of Mountain Lake Ecosystems of Asian Countries"

June 26 - 28, 2014
Yerevan, Armenia
Hosted by the National Academy of Sciences of Republic of Armenia (NAS RA)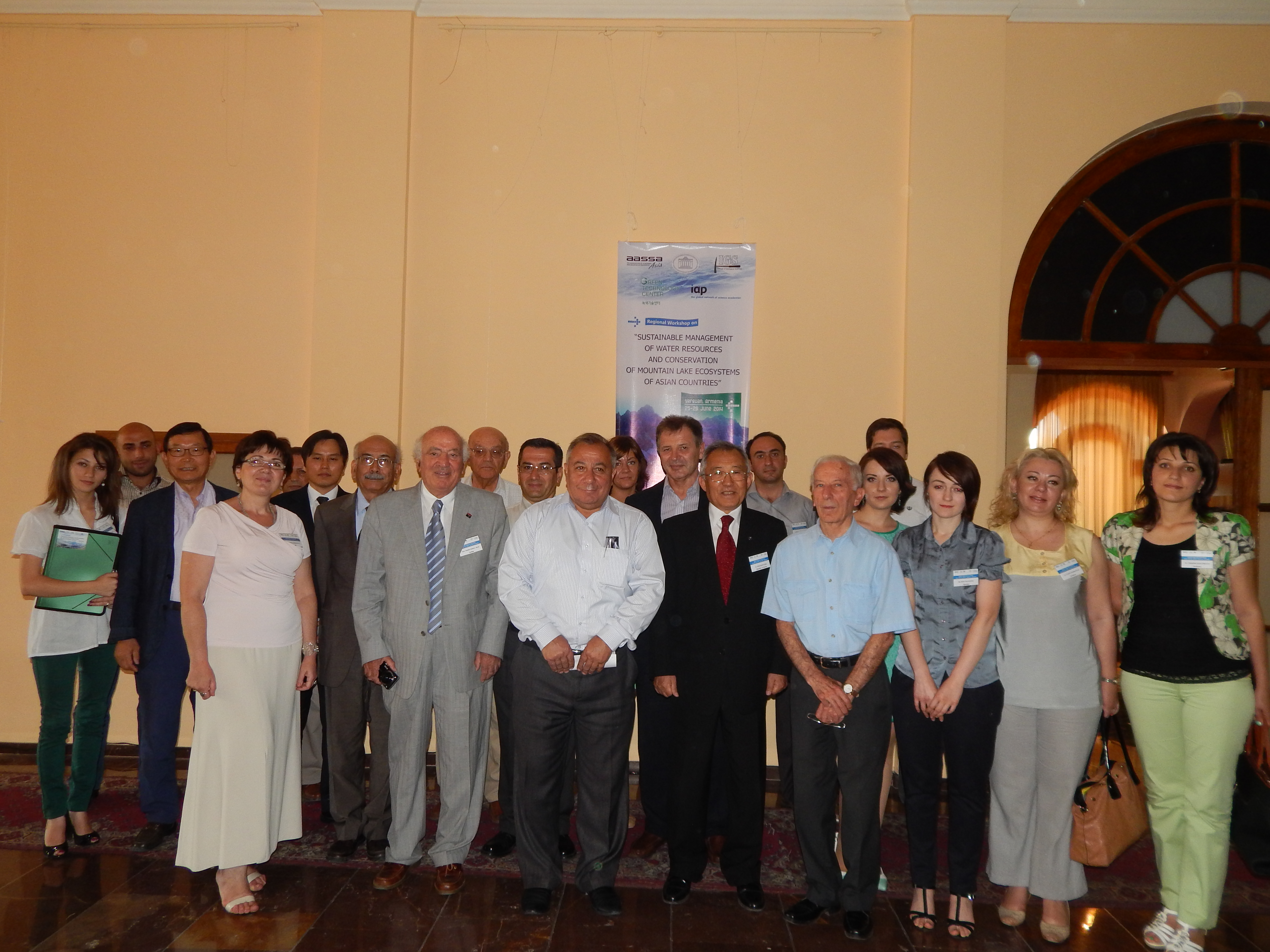 NAS RA-AASSA Joint Workshop on "Sustainable management of water resources and conservation of mountain lake ecosystems of Asian countries" took place on June 26-27, 2014 at the National Academy of Sciences (NAS) in Yerevan, Republic of Armenia.

The workshop was jointly organized by the Institute of Geological Sciences (IGS, NAS of RA) and AASSA and supported by IAP and Green Technology Center (GTC) of Korea.

Water resource management is the activity of planning, developing, distributing and managing of water resources. Much effort in water resource management is directed to the optimization of the use of water and to the minimization of the environmental impact of water use on the natural environment. The successful management of any resources requires accurate knowledge of the resource available, the uses to which it may be put, the competing demands for the resource, the measures and processes to evaluate the significance and worth of competing demands and the mechanisms to translate policy decisions into actions on the ground. One of the biggest concerns of our water-based resources in the future is the sustainability of the current and future water resource allocation. As water becomes scarcer the importance of how it is managed grows vastly. The region today has water-related environmental problems – shrinking glaciers, water pollution, groundwater degradation, trans-boundary issues, and others – that put pressure on the availability of water. Finding a balance between what is needed by humans and what is needed in the environment is an important step in the sustainability of water resources.

The workshop was very successful and fruitful. The participants professionally presented the problems and challenges, were interested in discussing performance, and actively asked questions. Sessions correctly reflected all areas of research emphasizing the urgency of the issues which ultimately allowed to summarize all the issues and to determine a plan for action to improve the development of the water resources management in Asian countries.

The workshop consisted of 5 sessions: 1) The session "Water Resources Management: Strategies and Approaches" presented strategic directions of the water resources management in Asian countries based on Water Framework Directives (WFD) solutions and principal approaches, their application and usage for specific tasks; 2) The presentations on "Sustainable Management of Trans-boundary Waters" provided information on WFD implementation in the field of trans-boundary water management; 3) The session "Ecosystem Management of Rivers and Mountain Lakes" provided an opportunity to discuss issues of mountainous ecosystems of rivers and lakes; 4) The presentation in the "Water Quality Management" session showed the ways of the water quality management in order to minimize the contamination; 5) Finally, the last session "Rational Use of Water Resources in Contexts of Climate Change" highlighted the effects of climate change on aquatic ecosystems and the development trends of the different parameters of these systems in the long-term prognosis. The draft report on the workshop was presented at the Summit, which included some suggestions that national academies and academicians can implement.