AASSA Inaugural General Assembly

in conjunction with

International Symposium on 'Improving the Quality of Life through Science ' and

'Science Communication Leadership Workshop'


16-19 October 2012
Colombo, Sri Lanka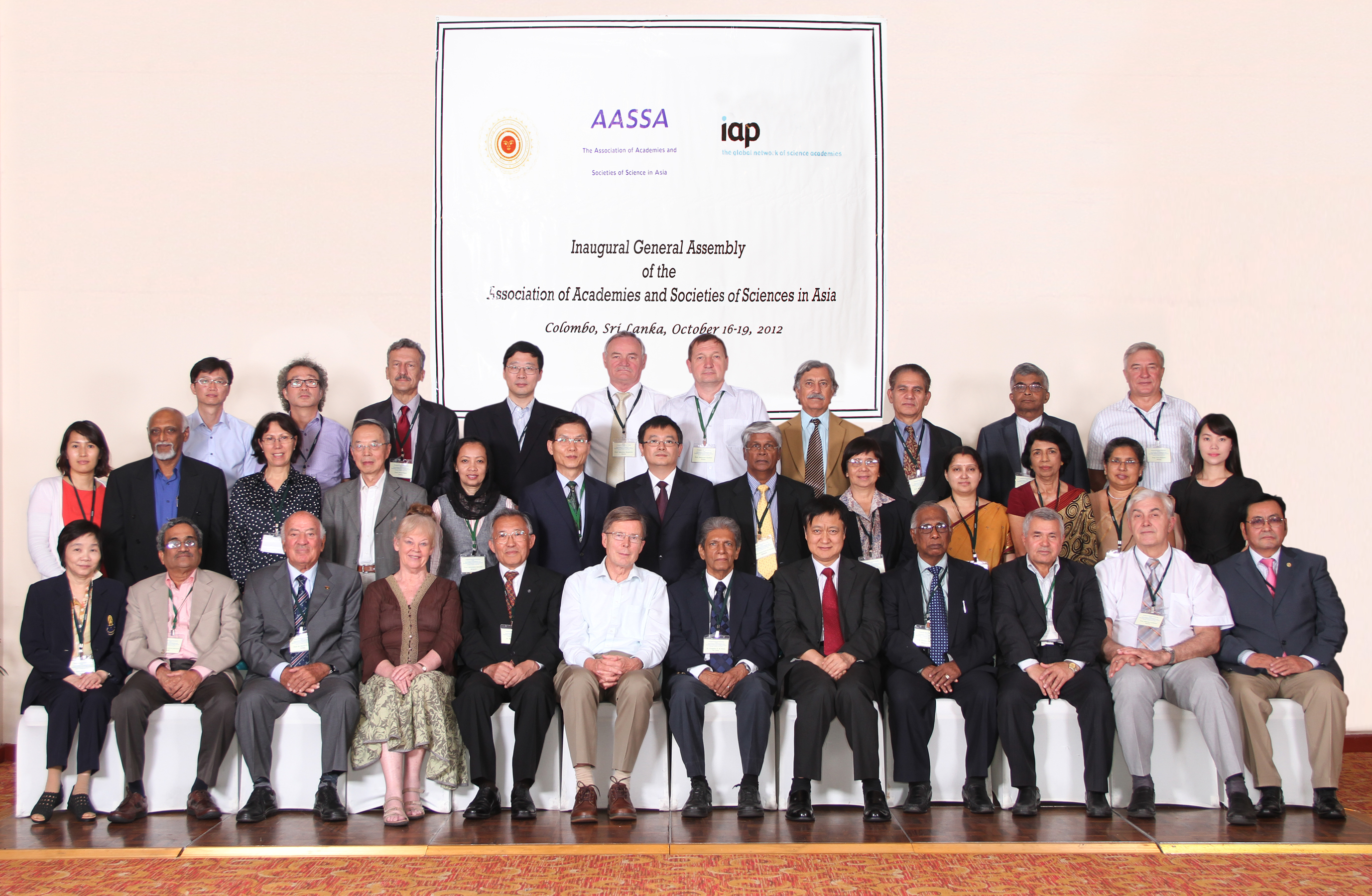 The Inaugural General Assembly Meeting of The Association of Academies and Societies of Sciences in Asia (AASSA) was held on 18 October 2012, in Colombo, Sri Lanka. The Meeting was hosted by the National Academy of Sciences of Sri Lanka (NASSL) at the Galadari Hotel. The Meeting was held in conjunction with the Association of Academies of Sciences in Asia (AASA) meeting, the Federation of Asian Scientific Academies and Societies (FASAS) meeting and the International Symposium on 'Improving the Quality of Life through Science' and 'Science Communication Leadership Workshop.'

The Inaugural General Assembly was the first General Assembly of AASSA since it was formed by the merging of the two major associations of science academies in Asia, the Association of Academies of Science in Asia (AASA) with 34 member academies and the Federation of Asian Scientific Academies and Societies (FASAS) with 16 member academies. Some academies had membership in both organizations. The first General Assembly of the merged body, AASSA, provided an opportunity for discussions to take place and decisions to be made on the modalities of its functioning.

The International Symposium on 'Improving the Quality of Life through Science' focused on how science and technology can improve the quality of life of people through improvement of their knowledge economy rather than through heavy capital intensive investments in physical development.

'Science Communication Leadership Workshop' emphasized the importance of science communication as a means to connect science with society. The objective of the workshop was to share experiences, policies, and developments about science communication and invitees from different areas carried their demonstrations and review.

The National Academy of Sciences of Sri Lanka (NASSL) hosted the Inaugural General Assembly and the International Symposium on 'Improving the Quality of Life through Science,' with IAP assistance. The technical program for the Symposium was organized jointly by the FASAS Science Education team and NASSL. The Science Communication Leadership Workshop was organized by a team led by the Korean Academy of Science and Technology (KAST) and supported by IAP and KAST.